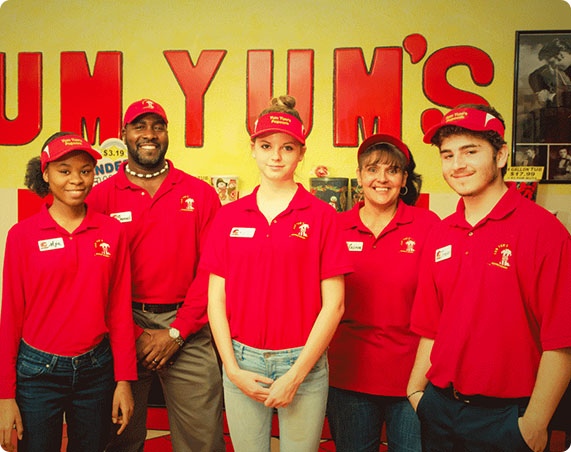 The journey of Yum Yum's Gourmet Popcorn began in June of 2012 in Southaven, Mississippi. Now there are 2 more locations in the metro Memphis area. If anyone had told the owner then that they would be "popping corn" on everyone they never would have believed it.
Across America, the best gourmet popcorn shops attract customers from hundreds or even thousands of miles. These shops have a special grip on their customers. Popcorn lovers and new converts often stand in lines all the way out of the door and around the building. There were security guards inside these facilities just to maintain order. This was fascinating and Samuel McClenton had to know the secret!
Through diligent research, experimenting and self-education, and a little help here & there, the hidden secrets for making the best "gourmet" popcorn was introduced and Yum Yum's Gourmet Popcorn was born! The first hurdle was where to locate. The Chicago market was too crowded and the competition too stiff. After acknowledging the Lord and led to start the business in Southaven, Mississippi, because there were no popcorn shops and it is close to Memphis, Tenn. The first Yum Yum's popcorn shop was opened on June 1, 2012 at 9049 Highway 51 N. Southaven, Ms.
We now have 3 locations to serve you, our Southaven, Mississippi location, the South East Memphis location and one inside the Oak Court Mall, which is also in Memphis, Tennessee.
We offer all of the traditional and specialty flavors available in Chicago. And, we have developed unique local flavors. We specialize in yummy popcorn flavors such as: Caramel/Cheese mix (Chicago Style), Pecan, Cheddar Cheese, Birthday Cake, and Chocolate Swirl and our very own Rainbow flavor consisting of watermelon, vanilla, grape, green apple and more. The rest is a secret. And of course, we have the good old-fashioned Butter flavored popcorn. Our recipe beats any movie theater's popcorn because our corn is "melt-in-your-mouth" tender! We can prepare almost any flavor your taste buds desire.
We also carry popcorn Tins in many sizes including, 1, 3 1/2, and 6.5 gallons. We will mix any tin in any combination of flavors your heart (or taste buds) desire. Try, two-thirds Cheddar Cheese and 1/3 White Cheddar? We got you! Or perhaps you want a whole tin or tub of Caramel/Cheese mix. Not a problem! Better yet, mix a little bit of it all in one tin or tub. We are PROUD to please you.
We use the finest ingredients, the absolute best. Yum Yum's popcorn is kept in glass warmers in order to maintain the taste and texture and so you can also experience the vivid colors. You will smell the alluring and addictive popcorn flavors before you open our doors. Walking into the shop is like walking into a huge popcorn bag. You "melt" and smile. Yum Yum's Gourmet Popcorn is a happy place. . Satisfaction is guaranteed.
THANKS FOR POPPING IN AT YUM YUM'S GOURMET POPCORN IN SOUTHAVEN MISSISSIPPI